V Part Wig vs Headband Wig, Which Is Better?
Hair wigs have been essential fashion items for many girls, with which people can change their hairstyles whatever they like without damaging their natural hair. If you want to protect your real hair from heat or bleaching and dyeing damage, wigs are absolutely good choices.
There are all kinds of hair wigs on the hair wigs market, such as V part wigs and headband wigs. Maybe some girls are confused about which one is better. Today what we want to discuss is the similarities and the differences between V part wigs and headband wigs.
What Is a V Part Wig?
A V part wig refers to a wig made into a V shape structure. There is a v-shaped opening on the top of the wig, which is left for your natural hair. You can choose to leave your hair or not. Actually, the V part wig is the new version of the upgrading U part wigs, it can offer you more convenience.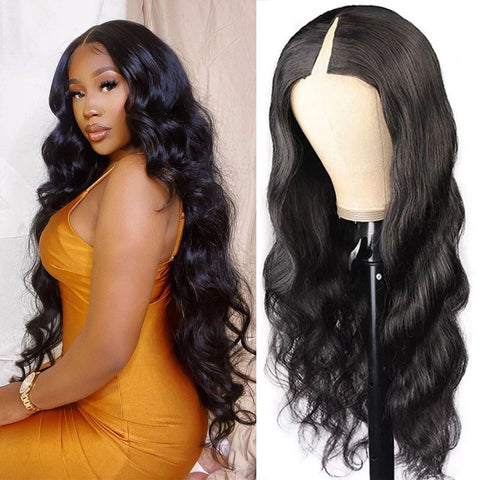 The Pros of V Part Wigs
Firstly, let us have a look at the advantages of V part wigs so that we can know them more comprehensively.
1. Easy to Install and Take Down
There is a V-shaped opening on the top of the head. When you need to wear the wig, you just need to open it with your hands, put on it and fix it with the combs inside the cap. Just a few minutes you will take. Before you go to bed, it is very convenient to take it down. And it is extremely for beginners.
2. No Glue and No Lace
The wig cap is made by machines and there is no lace. The cap is made of breathable materials so that it feels still comfortable. And you don't need to spend time cutting the lace and using glue to hide it. No glue for the whole process.
3. Prevent Allergies
Because glue is useless for the V part wig, you don't worry about the skin allergies from glue anymore, which is definitely a piece of good news for girls with sensitive skin.
4. Less or No Leave-out
The opening of the wig is left for your natural hair. But actually, it is up to you. If you prefer leaving some of your own hair will help the wig look more natural, you can choose to do that; while if you can not deal with the leave-out hair well or it looks still natural without leave-out, you can choose to put on it directly.
What Is a Headband Wig?
A headband wig, as the name suggests, is a wig with a hairband attached. And the hair is sewn on a soft wig cap. All the hair can only go on the back of your head, which means that the section near the frontal head is not covered by the hair of the wig but by the headband. But the headband is made out of soft materials so that comfort can be assured.
The Pros of Headband Wigs
After we have learned about the advantages of a V part wig, we will tell the main advantages of a headband wig in the following part.
1. Easy to Wear
This is a wig without lace so you don't have to cut the extra lace or use any glue to fix the wig. You just need to put it on directly and adjust it to the proper directions. The process will take less time than a lace wig.
2. More Affordable
Compared with a lace front wig, a headband wig can be gotten at a lower price. If you only have a limited budget, headband wigs are the better choice.
3. Suitable for Almost All Head Sizes
All the headbands are made of elastic cloth so they will fit almost all head sizes. In addition, the headband is soft enough so that you will feel comfortable with it.
The Similarities between V Part Wigs and Headband Wigs
1. Lower Price than Lace Wigs
2. Easy to wear. It will take you very few minutes to put on and take down them.
3. No lace and no glue. They have easier steps and can prevent glue allergies.
4. Versatile. Different kinds of hairstyles can be created with them.
The Differences between V Part Wigs and Headband Wigs
1. Different Construction
The top section of V part wigs is made into a V shape. While the front part of headband wigs is made of elastic cloth.
2. Different Prices
Although they are both more affordable than lace wigs, compare a V part wig with a headband wig of the same material, density, and length, you need to pay slightly more for a V part wig.
3. Different installing ways
After you have braided your hair, you need to insert the clip and adjustable straps on the wig into the gap of the braided hair to put on a V part wig. If you want to make some leave-out hair, blend them with the V-shaped opening.
For a headband wig, the first step is also to braid your hair. And then put the wig cap connected with the hair bundles on your head, and finally cover the front end of the hair cap with the headband.
Which One Is Better, V Part Wig or Headband Wig?
Actually, as you can see, both of them have their advantages. You can choose which to buy according to your preference. Here are some tips for choosing a more suitable wig between them.
1. If you have thin hair, a headband wig is more suitable for you. Because V part wigs need thick hair to hold. You need to insert the combs into the hair braiding to prevent falling off.
2. If you have a limited budget, a V part wig is more affordable.
3. If you like the look of wearing a headband wig, a V part wig is better for you.
Today we introduced in detail the characteristics and compared the similarities and differences between V part wigs and headband wigs. If you are planning to buy a wig that is convenient and affordable, we have different kinds of V part wigs and headband wigs for you to choose from. If you have some questions, please feel free to contact us. Sofeel is always right here for you.

Related Blogs:
What Is A V Part Wig?
Different Ways To Style a Headband Wig
How To Make A Headband Wig At Home By Yourself
Liquid error (snippets/article-template line 71): Could not find asset snippets/blog-detail-gallery_lookbook.liquid