Sofeelwigs Buy Now. Pay Later. Interest-Free.
How to buy high-quality wigs with the least amount of money? Sofeel provides a way to buy first and pay later with Sezzle/Zip. Split the total cost of your order into 4 interest-free payments, spread over 6 weeks. No fees if you pay on time, with zero impact to your credit. This is a payment method that is easier to use than a credit card. Read below for details and use this new way to buy your favorite buy now pay later human hair.


What is Sezzle?
Similar to payment platforms such as Afterpay or QuadPay, Sezzle provides a payment solution. Provide short-term installment plans for shoppers who need flexible, affordable financing without disrupting banking.


25% of the cost is paid at the time of purchase, and the remaining amount is divided equally among three installments (a total of six weeks). You do not need to pay any interest and handling fees, you only need to pay for the buy now pay later wigs ordered.

Sofeel provides many wigs Payment plans. Sezzle, Zip, Stripe and more.

Guide to Sezzle 

1. Select the hair wig or hair weave you want to order.



2.Add these hair productsto your shopping cart. Then click continue to

Choose the wig you want, and you can either buy it outright or browse through it later.
Enter the requested shipping details, then click "Continue to shipping". To the right of filling in the shipping information is a place where you can enter the discount code. You can enter the active discount code to get the best price.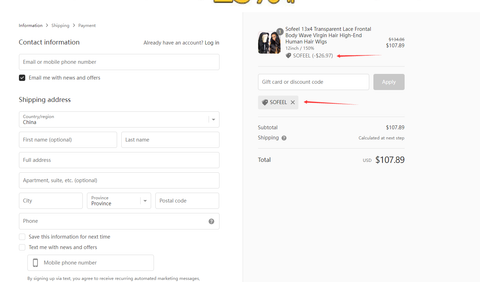 3. Select mail method and click continue topayment


4.Select the Sezzle payment

5.Click the buttonat the bottom of the screen "Complete Order"
When you click the button, you're taken to the Sezzle sign-up page, where you'll be prompted to log in to your account (or create one if you haven't already). Now just follow the steps to complete the information requested by Sezzle.
Advantages Of Sezzle

1.Buy now,build your future.
You can plan your shopping ahead of time, especially if you need it, and there's a big sales discount there.


Because Sezzle pays for your order upfront and in full, there's no waiting to take possession of your items like there would be with layaway.

2.InterestFree
Your purchase can be paid in 4 installments over 6 weeks and only 25% of the first payment is required at the time of purchase.
Because Sezzle charges the retailer a fee, we make money here - not charging you a hidden fee. If you pay on time, there is no charge.


3.Convenient shopping
Sezzle has a high approval rate. And it won't affect your credit score. It also provides convenience for users who don't have credit cards.
You don't have to fumble for your bank card or enter your account number every time you make a transaction.Wherever you shop, you can quickly pay off your down payment and start your day off.

"We don't want people being stretched too thin," CEO Charlie Youakim told TODAY. "Our viewpoint is that it's a great budgeting tool. If you are utilizing it because you don't have the money to make the purchase today, that's the wrong decision. That's not why we are here; it's more for peace of mind."

4. Rescue emergency shopping


Liquid error (snippets/article-template line 71): Could not find asset snippets/blog-detail-gallery_lookbook.liquid