Should I Wash My Wig Before Wearing It?
When you get your new wigs for the first time, maintenance can be quite the challenge. A ton of questions will go through your mind. Should I wash my new wig before wearing it? How should I clean my wigs? The questions can be endless, but we're here to help with a guide to whether you should wash a new wig before wearing it and why, and how to wash your wig. If you have the same confusion, keep reading and you will find the answers.
Should You Wash Your Wig Before Wearing It?
Some girls put on their new wigs directly after they open the package, others think the wigs should be washed before wearing. Actually, whether you wash your wig before wearing it or not is a matter of personal choice. It also depends on specific circumstances. Because of the following reasons, we advise you to wash it before wearing a new wig.
 Remove 

Chemical

 

R

esidue

The wigs, not only human hair wigs but also synthetic wigs, are usually processed by some chemicals to make the hair look beautiful and lustrous and keep the wig styled during transportation. 

Because a wig will accompany us for a pretty long time, it will also be in close contact with our scalp and forehead, you have to make sure it is completely clean, so as to ensure that your skin will be prevented the damages, such as allergies and other symptoms, from chemical residue.
2. Eliminate 

Strange

 

S

mell

During the complicated process of producing a wig, many chemicals will be used. After the wigs are made successfully, some smell will be left on the wig. Some girls with sensitive noses will feel uncomfortable because of this smell. If you wear it without washing, it means that you have to live with the smell for a long time.

If you wash it before putting it on, you can use your favorite shampoo and conditioner, so that your wig will maintain the unique smell you like. What a delightful thing.
3. Increase
 

S

afety

Another reason you had better wash your wig before wearing it is for safety. Before the wig arrives at your home, you don't know what happened to it during the transportation process, and who is responsible for the transportation. You can't know all of these. So for safety reasons, we suggest that you open it and check it after you receive it. If you find any problems, contact the supplier immediately to solve them.  
How To Wash Your New Wig?
After learning about why you should wash your new wig before wearing it, in this part, we will teach you how to wash your new wig so that you can follow the steps to get a clean new wig.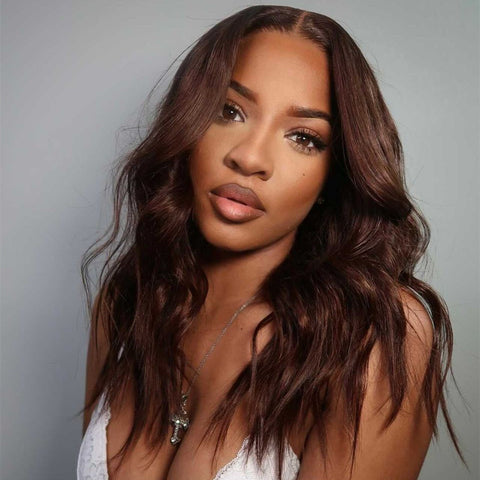 CLICK AND SHOP NOW


1. Brush Your Wig Gently
Firstly, you should use a hairbrush to remove the tangles and knots. Be gentle to avoid hair loss. Comb out the ends of the wig first. Once they are free of knots, work your way up towards the roots until you can run your brush or comb through it without snagging. Use a wire wig brush for straight or wavy wigs, and a wide-toothed comb or your fingers for curly wigs.
2. Put It In Cold Water
Fill your sink with cold water, then add 1-2 squeezes of shampoo.  Stir the water and the shampoo with your hand. Then put your lace front wigs into the water. Don't try to use hot water, because heat will hurt your delicate wig.
3. Wash It With Your Fingers
Give the wig a gentle swirl to help distribute the shampoo throughout the strands. Then comb the hair with fingers gently to clean the hair strands.
4. Rinse Out The Shampoo
Rinse the wig with cold water until the shampoo is all gone. Depending on how thick the wig is, you may have to rinse it twice.
5. Apply Conditioner
Apply some conditioner to the hair. Then comb the hair with your fingers so that the conditioner can cover all the hair. After it stays on the hair for a few minutes, rinse it out with cold water.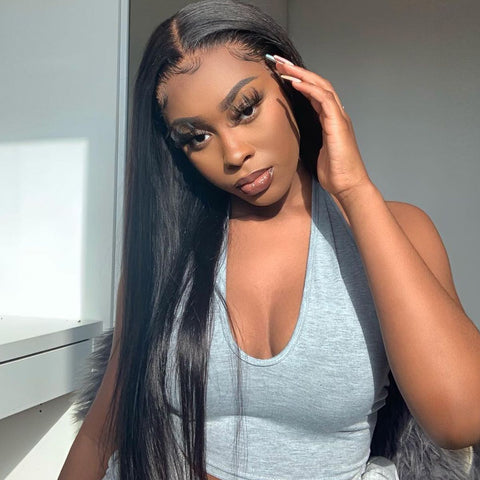 6. Remove The Excess Water With A Towel
After washing your wig, never try to dry it by rubbing, which will cause hair loss and make your hair frizzy. Place the wig down on the end of a clean towel. Roll the towel into a tight bundle, starting from the end that has the wig on it. Press down on the towel, then gently unroll it and remove the wig.
7. Dry Your Wig Naturally
Put it on a wig stand and place it under sunlight. If you have no enough time to wait for it to be dry naturally, use your hairdryer. But don't use high heat, it will damage your hair. After it is dry completely, you can enjoy your beautiful wig!
Conclusion
In a word, you'd better wash your new wig before wearing it. We also list the main steps about how to wash a wig. I hope that you can have a wonderful first wig experience. If you want to know more about wig maintenance, welcome share with us.
Liquid error (snippets/article-template line 71): Could not find asset snippets/blog-detail-gallery_lookbook.liquid