How To Make A Natural Looking V-Part Wig?
There's no denying that protective hairstyles reign supreme in the beauty world. A great way to protect your hair from the elements while rocking a stylish 'do, they simply can't be beaten.
V-part wigs are perfect for experimenting with various styles, textures, or cuts you fancy. Best of all, you can sport a natural look without the fear of a wiggy appearance. No wonder hair gurus and celebs alike can't get enough of this hairstyle trend.
These lace part wigs can be found on sales for exciting prices. So, want to try a V-part wig on for size? Follow along as we share everything you need to know about Middle parts, V-part wigs, so you can achieve a flawless look.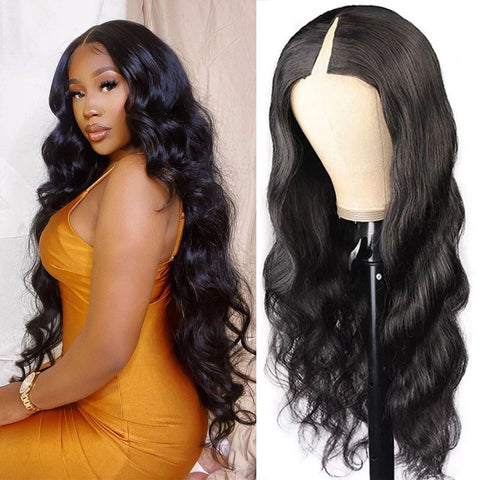 How to Wear a V part wig and Get Natural Result?
Step 1: Measure Your Head
To kick things off, you'll need to place the U-part wig over your head. This step will let you know how much hair you need to part for a seamless look.
Step 2: Part Your Hair
Next, it's time to part your hair. Using a comb, part your hair at your crown to match the U-part wig shape. Be sure to also part about an inch-wide section from your hairline to the ear. Clip this hair out of the way. This will come in handy when you're ready to style your hair.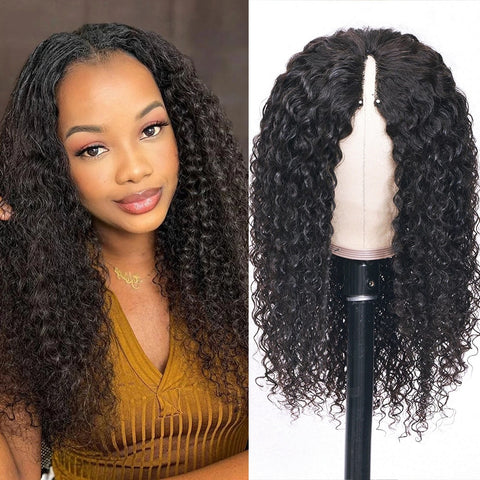 CLICK AND SHOP NOW
Step 3: Create Your Foundation
Now that your hair part is in good shape, it's time to get your remaining hair as flat as possible so your wig can lay evenly. Kick things off by creating small Dutch braids or twists, making sure to braid or twist your hair to the ends. Working with short strands? Simply smooth your mane with a bit of hair gel to keep your strands in place.
Step 4: Wig It Out
Holding the V-part wig at both sides, place the wig over your head and snap the clips in place to cover your braids. There should be clips along the perimeter of your V-part wig to ensure a seamless fit. As a result, your V-part wig should lay flat on your head with your hair part clipped in place.
Step 5: Adjust Your Wig
As we mentioned above, V-part wigs typically come equipped with an adjustable strap and clips to give you the best possible fit. If you find that you need more support, simply place the strap over your head to secure your wig. This helps to reduce the risk of the wig sliding on your head.
Step 6: Mask The Hair Extensions
Your V-part wig look is almost complete! Now that your wig is firmly in place, you need to disguise the hair extensions on your wig. Release your hair part along the sides and the crown of your head. Comb through with a wide-tooth comb for a gorgeous finish.
Liquid error (snippets/article-template line 71): Could not find asset snippets/blog-detail-gallery_lookbook.liquid