How To Make A Frontal Ponytail For Beginners
Have you ever thought of trying a new hairstyle that is very easy, practical and sexy? Ponytail hairstyle will be an excellent option for you that never go out style and is very versatile. Now we will provide a tutorial about how to make a frontal ponytail step by step.
What You Need To Prepare In Advance:
Shampoo and conditioner;
Dryer;
Flat iron;
Comb;
Hair tie;
Some baby pins;
Lace closure and two hair bundles;
How To Make A Frontal Ponytail?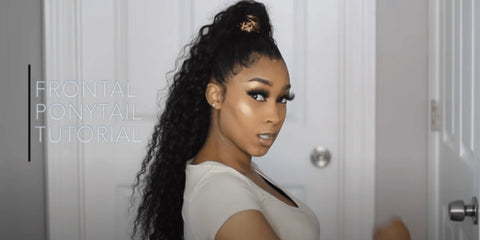 Step 1: Wash Your Hair. First of all, you need to wash your hair with shampoo and conditioner. After all, only you are working with clean hair, your ponytail will be going to turn out a lot better.
Step 2: Blow Dry Your Hair. Then you can blow dry your natural hair and use a flat iron to straighten your hair. In this process, you need to mainly focus on the roots of your hair that are not going to be out except in the nape area. Besides, you also need to focus on the nape area in the back of your hair. We also sincerely recommend you use a mini flat iron to go over the nape area so that it will get as straight as possible.
Step 3: Place your hair in a ponytail and prepare to forget them on the back to lay down. Then you use gorilla snot to pump the ponytail up section by section. If you try to do it all at once, your hair will be a wavy mess.
Step 4: Use a brush to comb the hair to remove tangles and knots and blow dry so that it will settle in place.
Step 5: Place the lace frontal where you want it to be, clip it out of place, then use got to be freeze blaze braid to lay your frontal down, and spray a little bit of hair spray to lay your frontal down on your head to get settled in the right spot. In the end, you could use a small toothed comb and blow-dryer to let it settle into place. Or you also can use glue or whatever you like to lay your frontal down.
Step 6: Cut off the lace as you go so as you lay a section down with the spray. Once you finish applying the lace, you will need to cut the excess lace off that is around your ear. Furthermore, you can section off the hair to what feels and looks most natural. You need to be very careful with this part as once you cut the lace off you can not put it back. Therefore, you could start with a little bit at a time because you can always go in and cut more if you need to.
Step 7: Lay a Gorillaz knot on the hair and brush it up in the direction that you are going to be putting the ponytail. If it is possible, you had better keep in mind to repeat this step section by section. Because you just apply the frontal you don't want to be doing too much pulling cause too much tension. And you will get the hair on your frontal to lay more flat if you take it section by section.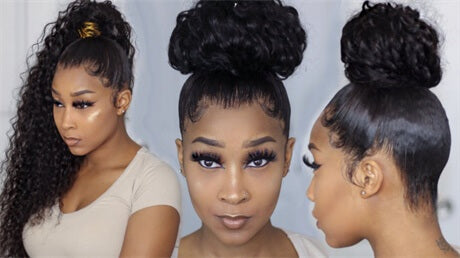 Step 8: Once you have got the hair brushed up and smooth down into place, you are going to go ahead and place the frontal in your hair into a ponytail, then braid it just to keep the hair out of way.
Step 9: Clean up your hairline in the freeze blast spray with alcohol and create some baby hairs to customize your hairline. Firstly pull a little bit of hair out and take a razor to trim the hair, then lay them down with some mousse that doesn't cause any lifting of the frontal at all and also have a nice hold with the baby hairs.
Of course, you can apply some mousse to the hair of all ponytail to help it lay down and get rid of the white overcast that you see showing on the lace. More importantly, it can help the hair of your frontal blend in better with your hair. You also tie it with a scarf to let it melt into place for at least 30 minutes before you take off your scarf.
Step 10: Use some powder foundation to further blend out some areas of the frontal that have a little bit of white overcast or are not just kind of blending in with your skin to give you a more flawless finish look.
Recommendations About Lace Closure And Hair Bundles
Do you want to try the frontal ponytail with lace closure and human hair bundles? There are a great variety of human hair bundles and lace closure at an affordable price, such as three bundles with closure, four bundles with closure, hair bundles with  lace closure. Then we pull together some hot-selling products for you.
Step 11: Loose the braid, put it in a ponytail, and braid it tightly again. The tighter the braid is, the easier it is going to be for you to wrap your hair bundles around the braid.
Step 12: Have tracks doubled up and stick the ends of tracks through a piece of your braid, slowly begin wrapping the tracks tightly around the braid until it reaches the ends. Or you can use some baby pins to secure it.
Step 13: Take a small piece of your ponytail and wrap it around where your ponytail holder is showing to help it look more natural and beautiful. You also add some gold string to your ponytail to give it a little bit of individuality.
Step 14: Untie your hair to enjoy your works. If you still have any questions we don't go into detail with the above steps, you can watch this video as a reference.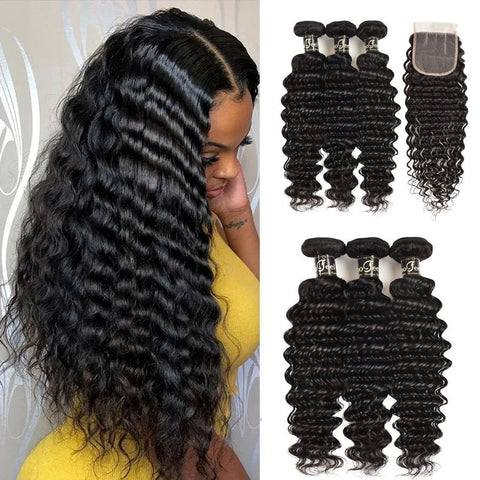 BUY NOW PAY LATER BUNDLES WITH CLOSURE
As we all know, hair bundles with closure are the best option as your hair is completely protected and safe from any chemical effects with them. Besides, they are easy to install and remove so that you can change different hairstyles quickly whenever you want.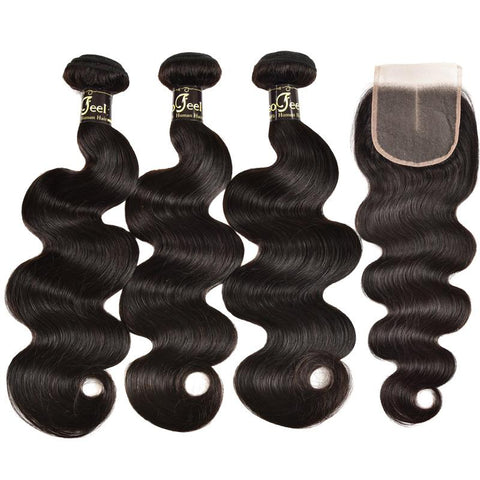 BUY NOW PAY LATER BUNDLES WITH CLOSURE
The human hair bundles and closure are all made of 100% virgin human hair so they can be used multiple times, and even don't tangle which relieves you of huge potential stress. In addition, they can be straightened, curled, dyed, colored according to your need. What convenient they are!
BUY NOW PAY LATER BUNDLES WITH CLOSURE
Hair bundles with lace closure are a healthy and relatively cheap way to take care of your hair and achieve a better overall appearance at the same time. 
Furthermore, Sofeel also offers many high-quality lace wigs for you to opt for, such as lace front wigs, full lace wigs, and 6x6 lace wigs.
Liquid error (snippets/article-template line 71): Could not find asset snippets/blog-detail-gallery_lookbook.liquid