Best Human Hair Wigs For Black Girls In Autumn
Autumn is almost upon us! As we all know, autumn is a great time to rethink your hairstyle, giving you the boost you crave to get through the colder months and survive until a spring refresh. Are you ready for new fall hairstyles? Today we have complshed a list of best human hair wigs for autumn, you can keep reading the content for a reference.
Honey Blonde Highlight Curly Wigs


Honey blonde, a popular hair color, suits most skin tones and combines with highlight technique is the perfect hair color for the fall season in 2021. And the honey blonde hair is a great option for those who don't have the time or funds to visit the salon every 4 weeks. In addition, it always makes the wearer energetic and shining, and gives other people a sweet feeling. And the lace front wigs are versatile so you can freely style a middle part or side part according to your preference. There is 14-24 inch available. The fall color wig can fit any occasion whether it is formal or casual, such as parties, weddings, and so on.
HD Lace Body Wave Wigs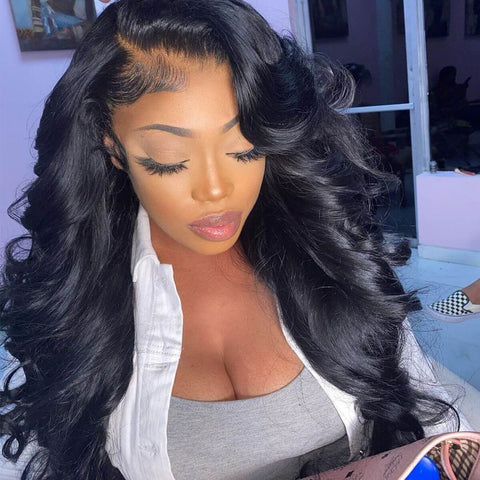 The HD lace wigs always are our hot-selling products and received many positive comments from customers. Compared to regular lace, the HD lace is lighter, thinner so it can melt into the skin perfectly and match well with all skin tones. Besides, they are very comfortable, breathable, and can create a more natural, more real, and highly undetectable hairline, thus giving you the most natural look. That is why HD lace wigs are so popular.
The thing that is worth mention that body wave is a classic and the most popular texture that can always give you an elegant and simple appearance. Of course, the lace types of lace wigs in our store mainly include 13×4 lace front wigs, 13×6 lace front wigs, HD Lace Closure Wig. You can choose any kind of lace wig to show your beauty.
Burgundy Straight Wigs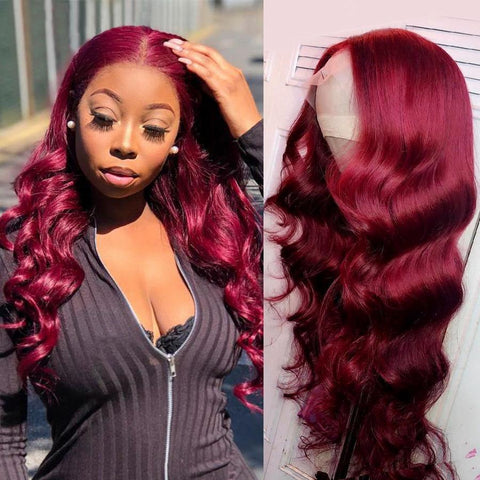 Except for the body wave texture, straight hair is another popular texture as it never goes out style. If you are a beginner in lace wigs, you may as well choose a straight wig as it is easier to maintain. While you want to go for bright and bold hair color but are afraid coloring will cause damage to your hair, the burgundy straight wig surly is the best option for you. Different from classic natural black or brown color, a 100% virgin human hair burgundy wig can add depth and give you confidence. There is doubt that it's the best choice to attend a date or shine at a party.


Water Wave Headband Wigs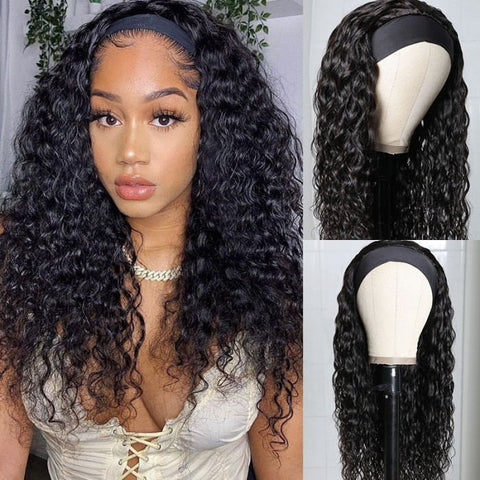 First of all, it is an excellent option for some girls who are allergic to glue or have sensitive skin. The headband wigs are all made of 100% human hair, no glue, and even no any synthetic. It means there will be no scalp irritation due to the chemical, no pulling of the skin because of the glue. With the high-quality headband wigs human hair, you even don't need to spend too much time cutting and hiding the lace. Compared to lace wigs, headband wigs are more affordable. Even they are a life-saver, especially for busy days.
Ginger Orange Body Wave Wig


The color wig is a kind of precolored affordable lace wig. And the ginger orange also is the most eyecatching and popular hair color in the market. More importantly, it can fit many occasion whether it is formal or casual and give you added charm. 
Liquid error (snippets/article-template line 71): Could not find asset snippets/blog-detail-gallery_lookbook.liquid