150 Density Wig VS 180 Density, What's the Best Density for A Wig?
Whether you're a wig newcomer or a wig lover, it is crucial to choose a wig that suits you and is comfortable to wear. When choosing the wigs human hair, in addition to the length of the wig and the curling style, the wig density has gradually become one of the important factors that need to be referred to. What is the difference between them and how should we choose according to our characteristics? The following may help you.
Visit here to find all Sofeel coupons.

#Black Friday#



30% OFF Overall,Code: BF30
37% OFF Over $229,Code: BF37



What Does Density Mean in Wigs?
Wig density considers the strands as a whole and is primarily used to express the number of strands per square inch on the scalp or to measure the density of hair follicles. The higher the density, the fuller the hair will look but at the same time you will also feel that your hair is very heavy, so choosing a wig of a certain density is crucial.Sofeel have 180% and over 200% density wig
How Many Kinds of Wig Density Are There?


To meet the needs of different women for wig density, wig manufacturers often launch wigs of different densities on the same product. Common wig densities are 80%, 100%, 120%, 150%, 180%, 200%, and 250% Density, etc.
A wig below 120% density will be very light to wear, giving a more realistic look to women with thinning hair and less volume. And 120% wig density is often the closest to the density of natural human hair. If you have no additional requirements for hair volume, then this is the best choice. The two densities that are often compared, 150 and 180, are the first choice for many women. Of course, how distinguishing and choosing one of them has also become a difficult problem.
What Is the Difference Between 150 and 180 Density Wig?

Hair Wig Weight and Volume Vary
A 150 density wig is great for adding volume to your hair, and it provides a full but not overwhelming wig look.
A 180 density wig is very thick and may be uncomfortable to wear, and is more used for artistic performers or women who are looking for the ultimate plump look.
Production Time and Price Vary
As we all know, the thicker and more complicated the lace wig is, it takes longer to make a 180% density wig of the same type than a 150% one.
The price of each product will vary due to the complexity of the process and the differences in raw materials. 180-density wigs are usually more expensive.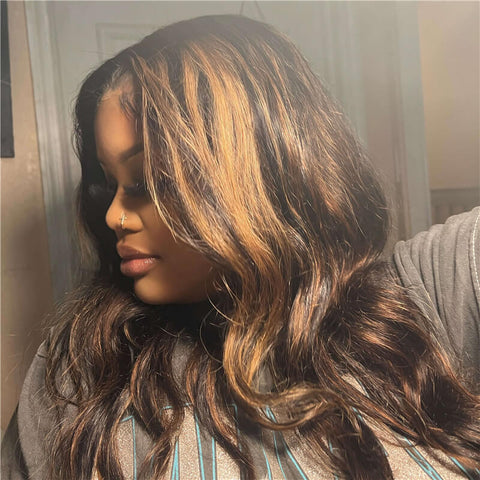 CLICK AND SHOP NOW
Is 150 Density Good for A Wig?
The lace front wig is made using a half-hand, half-machine manufacturing technique, which allows more hair to be added to the bottom of the wig. If you're a lace wig lover, opting for a 150-density wig can give you a fuller and thicker look.


What Factors Do You Need to Consider Before Choosing A Suitable Wig?
Weight You Can Handle
Generally speaking, the weight of hair that people with small heads may bear will be correspondingly lower. In addition to that, if you are a person with a lot of work pressure and life pressure, then a wig with a smaller density will definitely bring a little solace to your life.
The Density of Natural Hair
Most women choose a wig because they want to create a new look, so to present a natural and perfect look requires a high degree of integration of wig density and natural hair. According to the laws of metabolism, the older you get, the thinner your hair tends to be. Wearing a lighter density wig will help you get a natural feel for an authentic and cheerful look.
Hairstyle Requirements
If you're buying a long straight wig, the high density will add fullness to the wig itself, making it look more glamorous. A curly hair wig may not require as much hair density as long straight hair, although the density is not so high, it will look quite full, showing a perfect effect.
Low-density wigs are more likely to be made into high ponytails or half up half down hairstyles, which must be the best partner for fitness enthusiasts.
VIEW High Density Wigs


TAG: Wig Density, Hair Density, SofeelWig
Liquid error (snippets/article-template line 71): Could not find asset snippets/blog-detail-gallery_lookbook.liquid