The Most Complete Wig Knowledge About Big Heads For You
Do you have this kind of distress: Because of the big head, it is always more difficult than others to find a wig that suits you. But the truth is, believe me, you're definitely not the only one, people with a big head are very common. In order to help you solve troubles, get back your self-confidence and become more beautiful, today what we are going to discuss is some wig knowledge that girls with big head squad need to know.
What Size Of Head Is Considered Big?
Generally, an adult with a head size between 22.5 and 23.5 inches is considered to have a biog head. If you're not sure whether you have a big head, you can use a flexible tape measure, wrap it around the base of the skull (at the point where the wig would end), and pull it forward so that it stays over your ears, then finish at the mid-point of your front hairline.
This is a very simple method and you can easily finish this measurement. If the measurement is between 22.5 and 23.5 inches, then a large-cap wig will be the most comfortable for you.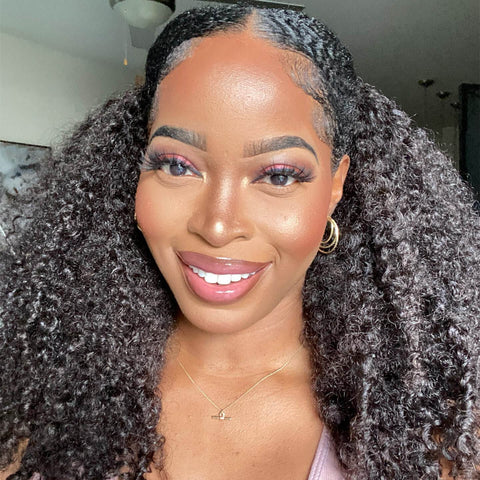 CLICK AND SHOP NOW


If you need more help with your sizing or more detailed instructions, please read about how to measure your head for a wig.


How To Make a Wig Fit a Big Head?
If you have purchased a normal wig and struggled so much to make wigs suitable for your head, this part will show you some steps to make your wigs larger so that you can get them a perfect fit!
First of all, please prepare all the things that you will need: some extra elastic, a scissor, the finest amount of thread that you can find. And then you can begin.
1. Remove the inside combs
Generally, Sofeel lace wigs have three combs inside the wig cap. Different wigs may have different numbers of combs. If your lace wig is small in size, you will feel very uncomfortable because of these small combs after wearing it. Therefore, you can remove all the little combs except the one on the back of your head.
2. Unhook one side of the straps.
You guys will see how much stretch we'll get from unhooking the straps. And we're going to make that stretch permanent. It's going to give us more room in the wig. Underneath that strap, you will see an extra piece of elastic, which is what makes it stretch and retract back.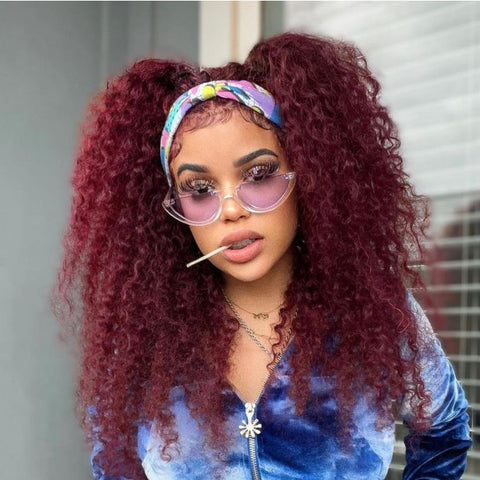 CLICK AND SHOP NOW


3. Separate the strap using a clip
Pull the strap out a small section and hold it with a clip. Then cut along the clip and split it into two. Then use another clip to hold the other strap so that it doesn't retract.
4. Split elastics
You can choose any color of elastics you want and split it to fit. You need to prepare two, one for the left side of the cap and one for the right side.
5. Sew the elastics
thread your needle and sew down the strap onto one end of the loop that you cut.
You don't want a whole bunch of bulk and you want to make sure that your elastic is a perfect size. You won't be able to stuff this back into the little nook that it was hiding in. Then go ahead and tie this off and get rid of the excess thread.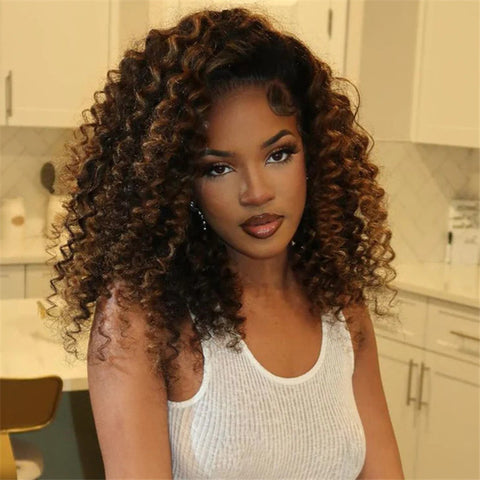 CLICK AND SHOP NOW



6. Create a loop
To create the loop, you need to flip the elastic that you just added on the right side. Flip it over to the right and lay it on top and just sew that together so that we have that loop again that was underneath our strap. Then it will be much longer so it won't retract super tight on your head.
7. Tuck elastic back down into the bottom of that strap
This is the last step. Use the end of a rat-tail comb to tuck the elastic back down into the bottom of that strap. Then just repeat the steps on the opposite side of the unit. You will get an extra inch or two from this method.
Wigs For Big Heads
If you think the above steps are complicated to finish, there are also many specialized wigs for big heads. If your budget allows, it is better to choose human hair wigs for big heads, because the quality of human hair is higher and the durability will be longer. In fact, choosing the right wig cap size is always the best choice for comfort, natural look, and health.
Liquid error (snippets/article-template line 71): Could not find asset snippets/blog-detail-gallery_lookbook.liquid