How To Cut Bangs On A Wig?
Wigs play an important role in the whole life for black women and they are an easy way for women to change their looks. But there is a question about how to cut bangs on a wig, and our a lot of clients ask us about this question. Today, we will share with you about how I cut my bangs on my wigs from my experience. Let's get chopping.
Why Should I Get a Wig With Bangs?
There are several reasons to choose a wig with a fringe:
Bangs are trendy and stylish.
A fringe can help to frame out the face and give a more flattering look.
Bangs on wigs eliminate the need for a lace front, which some women find itchy.
Fringes allow for increased styling options.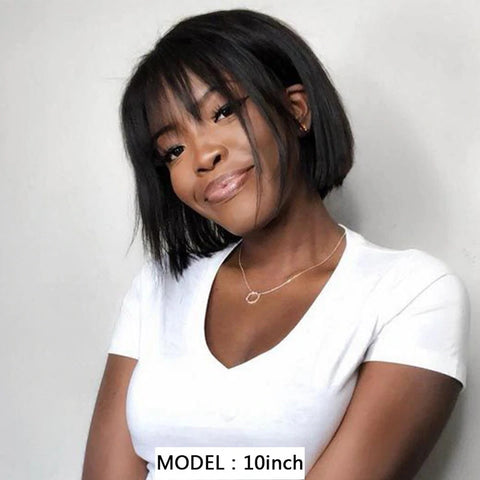 The Most Popular Bang Types
The demands for different hair looks resulted in a surprising number of bang types. So here are four of the most popular ones.
Straight-across Bangs
You can see straight-across bangs anywhere due to the ease of styling. Many people cut it themselves as these bangs requires no interference. It simply comes to be combed straight down.
Blunt Bangs
Blunt bangs are simply thick straight-across ones with little or no feathering. These bangs have been really a hot trend in the 1920s, then became out of fashion after the appearance of many other ones. In the age when people always think outside of the box, blunt bangs come back. Blunt bangs combine well with any hairstyles and this is why they are popular.
Side-swept Bangs
Side-swept bangs bring about a classic look and they combine well with almost hairstyle and face shapes. However, if you don't feel inconvenient when your hair falls in your eyes, this bang type is not for you.
Side-swept bangs come to flow to one side of the face. For this reason, it needs to be slightly longer than the others. People usually use a point cutting technique using the tip of the shears to achieve the most natural look.
See-through Bangs
As opposed to blunt bangs, see-through bangs can be considered as extreme thin straight-across bangs. They mainly originated in South Original and immediately spread to many countries in East Asia.
How To Cut The Perfect Bangs On A Wig?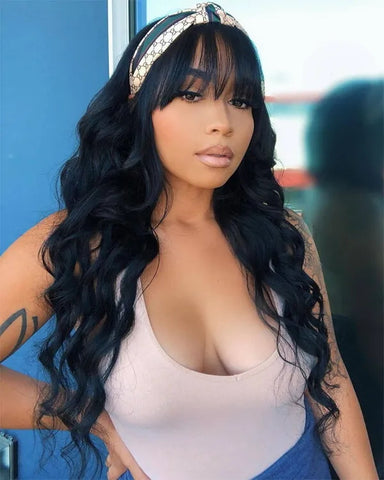 What Tools You Will Need
- Thinning shears
- Rattail comb
- Spray bottle with water
- Clips
- Wig
- Pins (if you're using a wig head)
- Wig brush
Before Cutting, Consider Your Face Shape
If you want bangs but aren't sure how they 'll look, consider your face shape. Here's a couple general quick tips for choosing a wig style to fit your face shape:
- Square or angular face: rounded or sweeping bangs to soften angles.
- Round face: blunt cut to create more angles.
- Heart shape: wispy bangs to give a softer, airy look.
Regardless of your face shape, think about what you love and what makes you feel good. Bangs are a great way to add personality to your hair style, so think of this as a way to really express yourself!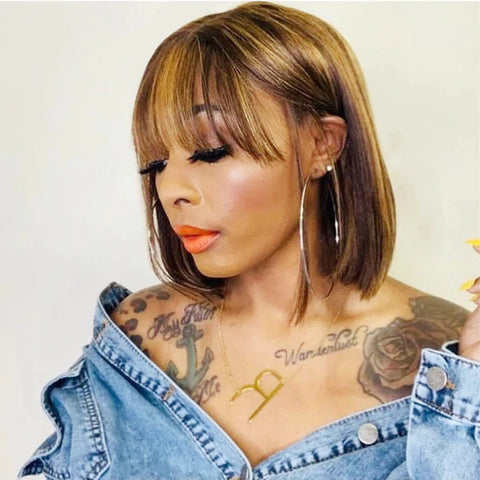 Step-By-Steps To Cut Bangs On A Wig
Step 1: Gather the hair over the forehead that you'd like to cut, being sure that it's even across your head. It may help to use a rattail comb to part the bangs away from the rest of hair.
Step 2: If the wig doesn't have bangs yet, wrap a hair tie where you'd like the length of bangs to be. Cut just below the hair tie so that you have the beginnings of bangs. Remove the tie and comb out bangs.
Step 3: Gently pull the bangs down and make sure they re smooth. Flip bangs over once towards the center of your forehead so that the bangs are evenly gathered.
Step 4: Pinch the hair at your desired length, keeping hair taut. If your wig is curly wigs or wavy wigs, make sure you pinch lower than the desired length. This is because when you make the cut, the hair will bounce up, appearing shorter.
Step 5: Use very sharp scissors to make one, very straight cut across the bangs.
Step 6: Comb back out to see where additional trims may be needed. If one side is longer, use your shears to make small snips to the tips of the bangs.
Warming Tips For Cutting Bangs On A Wig
If you do choose to cut your own bangs, make sure to follow these tips:
1.Cut off less hair than you initially think, leaving your bangs longer. This leaves room to even out your bangs and correct mistakes if necessary. Remember: you can always cut your bangs shorter, but you cannot make them longer.
2.Every wig has interior tabs at the temples that help you put on the wig more easily. Use these tabs as indicators of where to stop cutting your bangs on the sides to make sure you do not cut them too wide.
3.For a more blunt look, hold your scissors horizontally. For a more shaggy look, cut vertically.
Liquid error (snippets/article-template line 71): Could not find asset snippets/blog-detail-gallery_lookbook.liquid