Deep Wave Hairstyles That You Will Love
Deep wave hair has become increasingly popular in recent a few years. And there are plenty of styles for you to choose from in the market, such as Brazilian deep wave human hair, Malaysian deep wave human hair, Peruvian deep wave human hair, and Indian deep wave human hair. Do you know how to style them? Now keep reading these trendy hairstyles you can style with deep wave hair wigs.
1.Curly Bun
If you are going for a simple but professional deep wave hairstyle to let you get through one day at the office, why not consider styling a curly bun? Just need to gather all of your hair at the nape of your neck and pull hair tight to make the roots of the hair sleek, then twist the length of the hair, finally wrap the hair around in a circular motion and secure it with a hair tie.


Or you also can section off some small bangs at the front of your hair and let tendrils fall loosely in front of your face, which can modify your face shape and add some charm to your look to some extent. You can add some accessories to the side part of the bun, such as clips, flowers, and so on. What so beautiful and delicate it looks!
2.Half Up Half Down


You can secure the top half of your hair into a bun or a ponytail and then use a hair tie to hold it. There is no doubt that it is very easy and quick to create so that you even don't need to visit the salon. Besides, the half up half down hairstyle is suitable for any hair length and any face shape.






3.Double Buns


If you are looking for a cute, playful, and edgy hairstyle with Brazilian deep wave hair, the double buns will be the perfect updo whether you go to a formal or casual occasion. You can follow the following steps to have a try.
Step 1: First of all, you could part your hair into two sections and pull one part tight at a 90-degree angle on the top of the head.
Step 2: Use a wide-toothed comb to brush hair until it is smooth.
Step 3: Wrap the hair around the hand in a circular motion to create a bun and then use a headband to tie the bun.
Step 4: Repeat the above steps for the second part to create another stylish top bun again.
4.Curly Ponytail With Deep Wave Hair Extensions
For the sexy, female look, a soft and thick ponytail will do the job. Just need some simple steps, you will get a classic deep wave hairstyle for black women.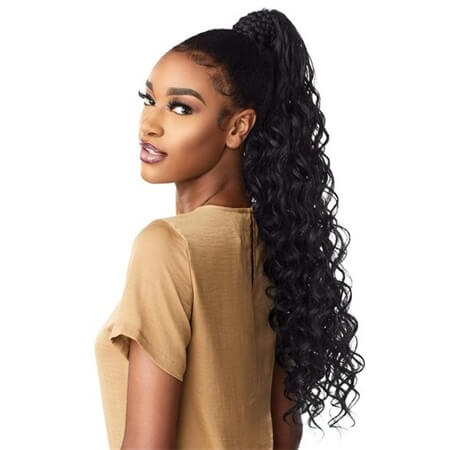 Firstly, you can create a wavy ponytail by brushing all of your hair towards the back and separate a small piece from the bulk of the hair. Then you continue to pull the remainder of the wavy hair into a high ponytail. And you could take the small section left out of the ponytail and braid it. In the end, don't forget to wrap the braid around the base of the ponytail to conceal the hair tie.
5.Crown Braid


As one of the most popular hairstyles, crown braids can highlight the texture of hair weaves and give you a fluffy look. You can use a wide-toothed comb to brush your human deep wave hair weaves and start to part your back hair from the middle of the head to the nape of the neck. Then braid the hair right from the back center of your neck. Before doing so, you should follow the perimeter of your hairline and hair as you braid. And remember to keep braiding until you meet the start of the braid and hide the tail of your braid by pinning it into your cornrow. To look gorgeous, you can wear gold hair jewels and pull the loose tendrils on your braid's side, which can modify your face perfectly.


As we all know, deep waves are very easy to achieve and maintain. For deep wave hair, you just need to wash it and use your fingers to brush it, which can make your hair look voluminous with great textures. Therefore, you can finish the most natural deep wave hairstyles with these HD lace  After all, HD lace is lighter and thinner, and can melt in the skin perfectly.
The lace front wig human hair deep wave can make various hairstyles, for example, high buns, space buns, half up half down hairstyle, and so on. With these deep waves, you appear as though you have naturally voluminous hair and a more youthful appearance.
Liquid error (snippets/article-template line 71): Could not find asset snippets/blog-detail-gallery_lookbook.liquid