Why Not Try A Highlight Brown Bob Wig In Summer?
Every girl's dream is to be pretty. Since our natural hair has a distinctive look and sound that cannot be replicated in other ways, we also worry about our hair. This used to be a huge roadblock to achieving a specific look, but now that you have a human hair wig, you can adapt any style you want to. Sofeelwigs is a leading brand that offers a variety of hair bundles as well as expert advice on how to choose the right hair product.
Sofeelwigs is offering a special brown bob wig with a beautiful look, today we will guide you about this product. Brown bob wig is a straight wig in bob style, if we talk about its specifications it is a lace wig with brown color. The wig is made up of natural human hair, Human hair wigs are made from real human hair so that they look and feel real, but after washing, they also need to be re-styled just like real hair. This wig is a ready-made wig that can be used any time you want to get styled. Its look and feel are really natural.
This is a pure dark brown bob wig with a fancy look. It is best for those females who look pretty in short brown bob wig. The wig with natural human hair is to provide a natural and real look with beauty. Louis XIII adopted the modern bob wig to cover his balding head. By the late 1600s, both wigs and handmade lace headpieces were popular in the everyday fashion of the European and North American upper classes. The unprocessed bob hair wigs are one of the best wigs to use. Dark brown bob wig was one of the most favorite wigs of all time.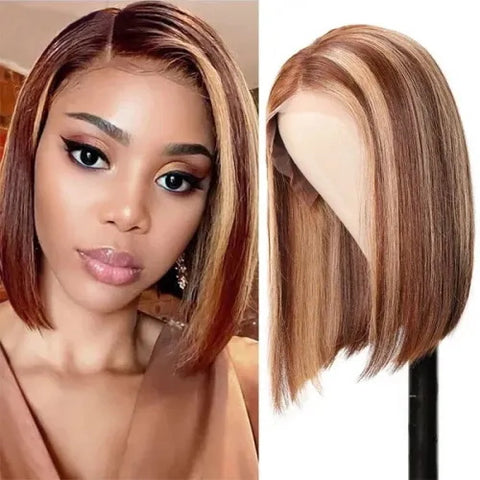 In the summer, the bob wig is the most common. People prefer short human hair lace wigs because of the hot weather, but dark brown bob wigs are the perfect alternative for summer. The length of a bob wig is usually between 8 and 14 inches. It offers a range of designs to choose from. It can differentiate between straight bob wigs, curly bob wigs, and pixie wigs, as well as shortcut lace wigs. When most African girls go out, they immediately put on a bob wig. However, if you want to stand out among the beauties with your bob wig, you must first learn more about it. Bob wigs were produced in the early twentieth century when black women decided to move from their long lace wigs to a shorter inch lace wig. The bob wig is still in style. If you want to try a bob wig, you can read this article first before buying one.
We offer a light brown bob wig with a density of 150%. The most commonly chosen density is around 120%, which is considered medium to thick and more closely mimics the density of the average human head. Many units come pre-plucked, meaning they are less dense around the hairline and gradually get denser, giving the units a more natural appearance. 150% (Natural/Full) A nice density for ladies who want their hair to look natural with a little added fullness.
Liquid error (snippets/article-template line 71): Could not find asset snippets/blog-detail-gallery_lookbook.liquid
1 comment