Where you go? All of Q&A About Human Wig ! On Here!
In order to help customers to learn more about hair, we spent two days sorting out the most frequently asked problems in buying and using hair, including: Wig Cap Construction comparison,How to measure wig, wig care, styling, hoping to help you.

1.Wig Cap Construction comparison

2.HOW TO MEASURE WIG?


3.WIG CARE

Many customers are asking how to care their wigs, here we summered up some tips that may help you better care and store your wig.

※. Detangle before washing with wide teethed comb from hair ends to root. Never comb roughly from the hair root, that will cause shedding.

※. Wash your wig 1 to 3 times a week if you wear it everyday, or every few wearings as needed. As dirty hair is not manageable, and will be tangled which will cause shedding.

※. Never use hot water or cold water when washing. Hot water may loosen the wig construction, and cold water is not good for removing the dirt.

※. Always rinse human hair with the water flowing in the same direction of the hair to avoid matting and tangles.

※. When washing, pay special attention to the area around the face which may accumulate dirt, oil, and makeup.

※. Never twist or rub your wig vigorously while washing or drying.

※. Always use sulfate-free care products formulated for chemically processed hair to wash and style your human hair wigs to keep the hair soft and manageable.

※. To avoid stretching the cap, never place a wet wig on a mannequin or Styrofoam head. A folding wig stands or tall can of hairspray make the best drying platforms.

※. Have two wigs ready to wear at all times. This way when you are washing one wig, you have a back up which is ready to go. Plus, rotating between wigs also helps to extend the life.

※. If you would like to store your wig, make sure that your wig is washed and totally dry, and put into the black net when we shipped with your wig. Do not apply any product when your wig is not in use.

Very useful tip: When storing your long hair wig, detangle it and braid it into one or two braids, this will avoid your wig in a mass.


4.Styling

Style as desired:

To straighten, take a 1 inch section starting at the roots and run a flat iron to the ends.

To curl, wrap the hair around a curling iron and hold for 10 seconds and release.

If desired use hair spray on the final styled product.

Tips & Tricks

Wash or rinse all human hair products and style before wearing. Human hair is not ready to wear out of the box.

Rinsing with hot water will damage the cap.

Do not dry on a solid form or mannequin head to avoid stretching the cap.

We do not recommend sleeping, showering or swimming while wearing the wig.

Store the wig on a wig stand to avoid unwanted kinks or crimps.

Lace is delicate and should not be tugged or pulled.

Avoid brushing the hair when wet to prevent damage.

Any cutting or chemical processes, such as perming or coloring, should be done by a professional hair stylist. We do not recommend lifting or bleaching human hair; depositing color provides the best result.
5.How to measure the hair correctly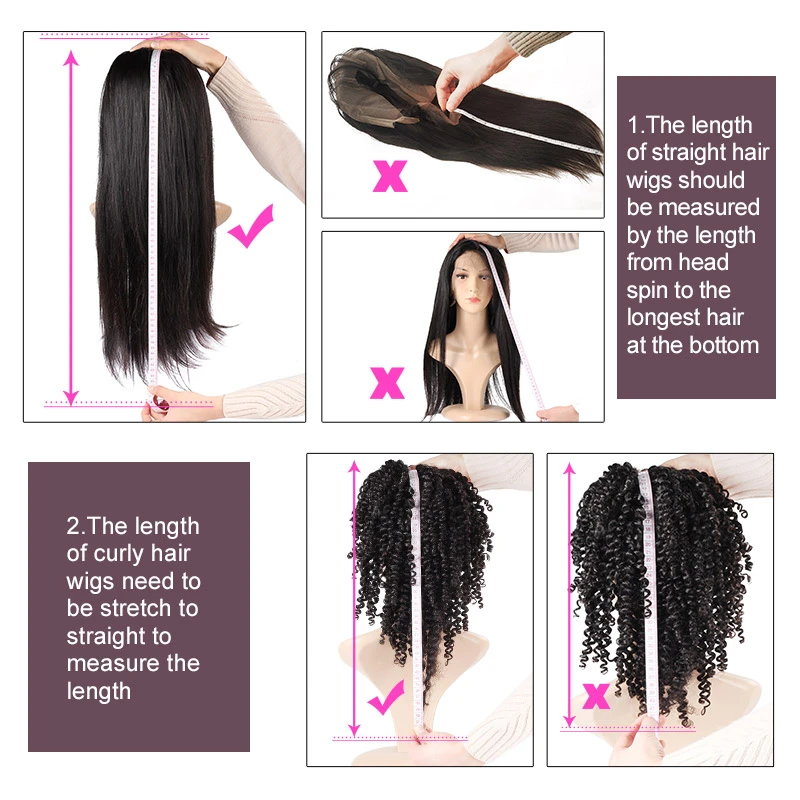 If you think this article is useful, pls share it with more people.
You May Also Like:
1.How do you apply a U part wig?

2.How long do full lace wigs last?
Liquid error (snippets/article-template line 71): Could not find asset snippets/blog-detail-gallery_lookbook.liquid