Tired Of Lace Front Wigs? Try Hot Selling Headband Wigs
Lace front wigs are some of the best wigs you can find on the market. These wigs look elegant and give the wearer a natural look. Most customers also like lace front wigs, In addition to that, they are long-lasting.
But sometimes, one can get tired of this type of wig. It could be because of the constant use of harmful adhesive glue used to apply the lace front which can damage the hairline or the tension this type of wig places on the hairline. Whichever reason you have for getting tired of lace front wig, the good news is that there are other alternative types of wigs you can try. One of the best alternatives is the headband wig.
Headband wigs have increasingly become popular over recent years. Nowadays, it is quite easy to spot a lady rocking a headband wig. But why do people love this type of wig? Well, it could be because of the natural look they provide wearers. In addition to that, these wigs come in plenty of styling options, which makes it easier for wearers to style them in different ways. In this article, we are going to discuss what a headband wig is and why it is an ideal option for ladies who are tired of lace front wigs.
Let's get started!


What is a headband wig?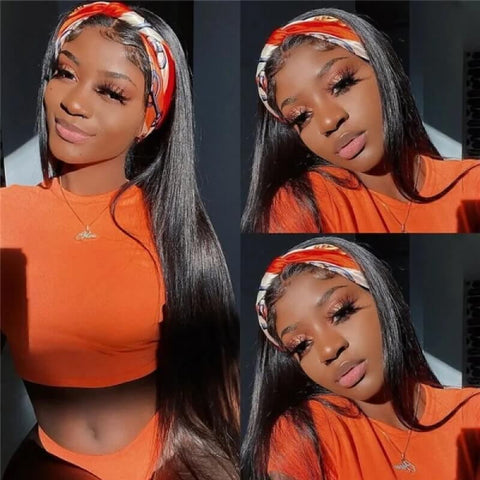 A headband wig is typically a type of wig that is made with a piece of material that looks like a headband. These wigs are quite easy to install on your head. You can do it in the comfort of your home. One of the main things that set headband wigs apart from other types of wigs is that instead f using clips or other fasteners to secure the wig, you just use a headband.
As mentioned above, headband wigs come in various styles, colors, and lengths just like other regular wigs. The only primary difference is the number of insert combs that come with the wig, the headband width, and the headband softness.
Headband wigs usually offer a more natural look than other types of wigs. If you want to add some volume and length to your hair without having to commit to the hectic work that comes with maintaining standard wigs such as lace front wigs, a headband wig is a perfect option for you.
So why should you choose a headband wig as a replacement for lace front wigs?
If you are tired of a lace front wig, why should you try out a headband wig as the alternative? Well, let's find out why.
1.So easy to install
You really don't need much time to install a headband wig on your head. You can put it on your head directly, use any headband to fix it, and simply adjust it. Compared to wearing a lace front wig, wearing a headband wig can only take about ten minutes, while wearing a lace front wig can take up to two hours. This makes a headband wig the better option if you want to take a break from a lace front wig.
2.Help protect your hairline
When it comes to installing a headband wig, you don't need adhesive glue to secure the wig on your head. You use the headband instead. These glues used can really damage your hairline. But since you don't use glue to install the wig, your hairline and skin are well-protected. So if you are tired of lace front wigs, which can damage your hairline and skin, you can try headband wigs since they will protect your hairline.
3.They are cost-effective
Headband wigs are generally cheaper compared to lace front wigs. They are cost-effective because they are machine-made. Hand-made wigs are generally more expensive compared to machine-made wigs. So if you are looking to try out a cost-effective wig, the headband wig is the ideal option.
4.Breathable and light
Human hair headband wigs are typically light. They aren't as heavy as other types of wigs, but they can cover the whole scalp. In addition to that, headband wigs are breathable and ideal for any kind of weather. Wearing a headband full wig feels as light and breathable as natural hair, which is ideal for hot weather. Lace front wigs can sometimes be too heavy which can make you feel uncomfortable.
5.They are available in several options
Headband wigs are available in a wide range of options, including full wigs and half wigs. Customers have the choice to choose headband wigs based on their personal taste and preference. They can choose a curly half wig, curly full wig, straight full, and half wig. In addition to that, headband wigs are generally ready to use. However, depending on the choice, style quotient, and occasion to wear them, users may go for custom-made wigs.  Besides, with headband wigs, you have the option to choose your preferred color, density, texture, and style. 
Does This Worth The Money? Human Hair Headband Wig Review
NO LACE! NO GLUE! NO GEL! No Work Needed Glueless Install.
If you're someone who doesn't like the fuss of a lace front wig or a lace wig, headband wigs are going to be ideal for you! You can style with a braid, a high ponytail, a low ponytail, and a half up/ half down hairstyle.
This HEADBAND Wig Looks SO REAL! Best BEGINNER Wig EVER! NO Stress! 
SUPER EASY TO WEAR THAN EVER WIG. Suitable for various occasions, such as sports, parties, work, study, travel, etc...
While simple to wear, the style is changeable, you can do a high ponytail, bun, or freestyle...
Liquid error (snippets/article-template line 71): Could not find asset snippets/blog-detail-gallery_lookbook.liquid