How You Can Make Your Headband Wig?
Since headbands wigs are among the most popular wigs currently, it is good to understand it; from how is it made to why you should wear it to how to wear it and how to take care of it. Fortunately, this article gives you all these details. So, without wasting more time, let's delve into them.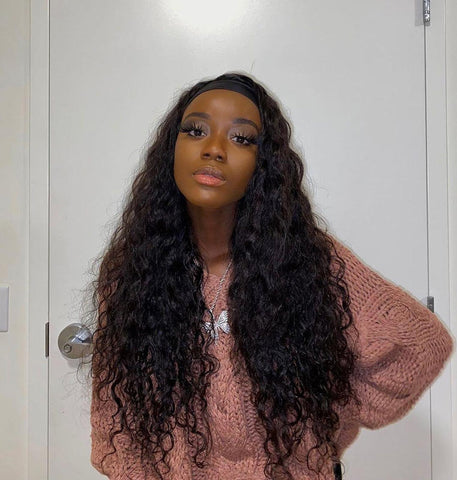 But First, What Is A Headband Wig?
A headband wig is a wig that is made with a piece of material that looks like a headband. To secure these wigs on your head, you use a headband instead of fasteners or clips that are used to secure regular wigs. Headband wigs also come in different styles, lengths, colors, and densities just like other types of regular wigs. So, whether you are looking for short or long hair, you can achieve that with a headband wig because they come in different lengths. Now that you have a better understanding of what a headband wig is, let's see how it is made.
How To Make A Headband Wig?
Firstly you're gonna need a mannequin head and also a wig cap, hair bundles, and headband.
I would recommend that you use a canvas mannequin head simply because the head size is more realistic.
The first thing we're going to do is sew the headband onto the perimeter of the wig cap, so please make sure to pin it down before you sew it um it just makes it easier, and when it comes to the sewing try and do it as well as you can so that the wig cap and the headband are tightly stitched together. So once you've finished just make sure to tie a knot at the end so that nothing comes loose. Next, you can sew the hair bundles on the wig cap from top to bottom.
Once I'd finished this is how it looked, and I love how realistic it looks, it just looks like a real headband wig. Except it's much cheaper and it really matches our natural hair texture, because it's nice and short, and I can just quickly put it on.
Why Should You Choose A Headband Wig?
There are plenty of reasons why you should choose a headband wig over other types of wigs. Here are some of the most common reasons why many ladies prefer headband wigs over other types of wigs.
1. No glue and no gel
One of the top reasons why ladies love headband wigs is that they don't require glue or adhesive to install them. These glues and adhesives can be dangerous because they can damage your skin. So if you are allergic to the chemicals inside these substances, a headband wig is the ideal option for you. Moreover, it takes less time to install the wig since you don't have to spend time cutting the lace or applying glue to your scalp.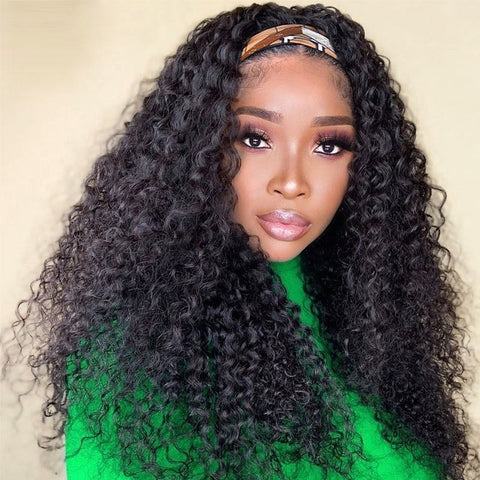 Buy Now Pay Later Headband Wig
2. They protect natural hair
Headband wigs can protect your natural hair from harsh elements, such as dirt, dust, and smoke. If you wear a headband wig, your natural hair will be protected from these elements that can significantly damage it. Moreover, by wearing a headband wig, you will be giving your natural hair a break from damaging hairstyles and hot styling tools. Of course, this will facilitate your natural hair growth.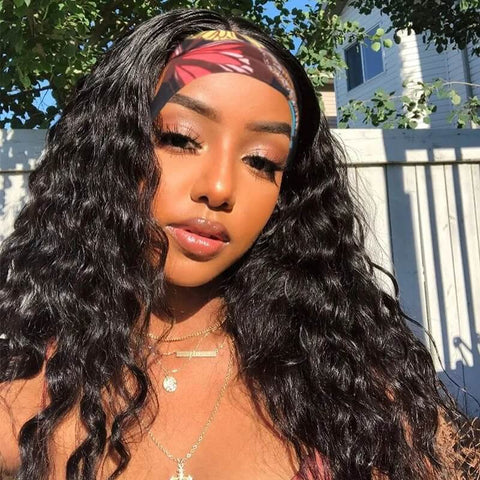 Buy Now Pay Later Headband Wig
3. You get to choose the style that matches your taste
As mentioned above, headband wigs come in different styles, lengths, colors, and densities. This makes it easier for you to choose the style that you want to achieve. Whether you are looking for a long or short wig or looking for something fuller, you will get it with a headband wig. When it comes to headband wigs, you don't have to be too rigid because there are several options to choose from.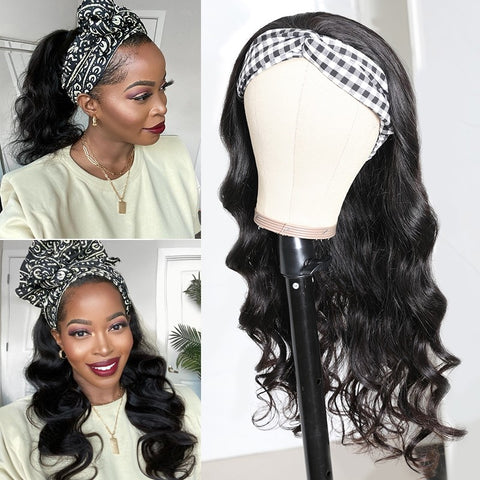 4. They are light and breathable
One of the top reasons why people love headband wigs is that they allow for breathability. Their lightweight makes them allow your scalp to breathe. If you wear a headband wig, you won't have to worry about sweating too much because your scalp is not getting enough space to breathe. Since headband wigs allow for breathability, you will feel comfortable in your headband wig.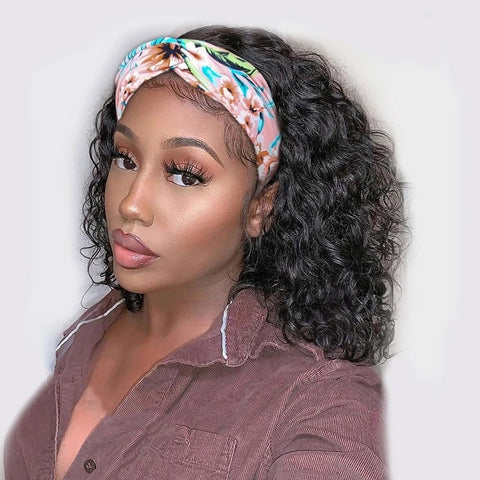 How To Wear A Headband Wig?
As mentioned above, wearing a headband wig is very easy that even a beginner can do it. Here is a guide to help you wear your headband wig.
1. Comb the headband wig
Before anything else, you need to comb your wig. Use a comb to brush out any tangles and knots. If your headband wig is curly, you can use a wide-tooth comb and freshen the wig. If the wig is thinner, you should use a smaller comb instead. Comb your hair gently, starting from the top as you go through to the ends. Brushing gently will help you avoid damaging your wig. If you want to keep the wig steady, you can use a wig stand instead.
2. Prepare your natural hair
Once you have combed your wig, you need to prepare your hair. Tie your hair into a ponytail before putting on the headband wig. Use both your hands to take back sections to make a ponytail. Remember that the wig will be featuring your natural hair along the front of your head, meaning the ponytail will be covered at the back. If you have shorter hair, opt for a ponytail centered along the back of your head. You can put on a wig cap over the back portions of your hair if you want the wig to be more secure.
3. Braid your hair back in rows
Part the front sections of your hair by braiding them horizontally along your forehead. Once your braids are in place, use the edge of a flat comb to continue separating the rest of the hair into 1-inch sections. Braid each of these sections backward, until they reach your lower hairline along the neck. You can use hair clips to fold the lower sections of the braids. This can make it easier to conceal your hair underneath the wig.
4. Install the headband wig
Almost all headband wigs come with clips that can fit and secure the wig into place. Fasten the wig clips along the edge of the wig cap. Take your headband wig and place it over your head. Make sure that the wig is properly secured all around the cap, including the sides and bottom.
5. Style your wig
Once you have installed your wig, you need to style it to your taste. If your headband wig is made with human hair, you can style it according to your needs. For instance, you can heat, dye, or permit. You can also make it curly if it is straight, and vice versa. Human hair headband wigs offer unmatched style versatility.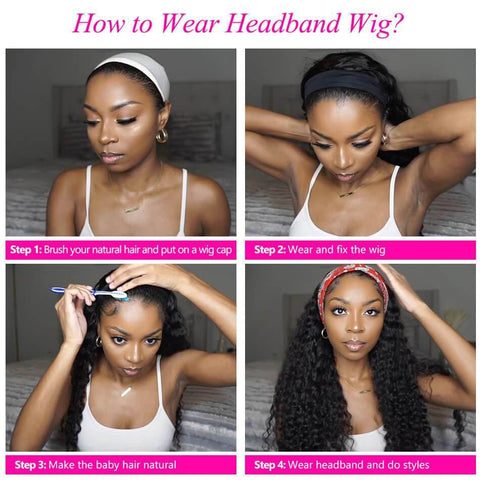 To maintain your headband wig, you need to wash it regularly, so that it does not accumulate dirt, dust, or oils. Again, use the right conditioner and shampoo on your hair, and make sure you thoroughly rinse them off whenever you use them. Don't use hot water when washing your wig; instead, use cold, running water. Unlike lace wigs, when cleaning headband wigs, you should scrub the headband on your wig separately.
Brush your wig more often, especially if it is curly to remove any knots and tangles. A wide-tooth comb can perfectly do that. Don't expose your wig to too many sun rays as too much sunlight can damage your wig and make it look pale and worn out. In addition to that, never sleep in your headband wig. This can make it prone to tangling due to the friction between your wig and your pillow.
Come and make your first headband wig!
Liquid error (snippets/article-template line 71): Could not find asset snippets/blog-detail-gallery_lookbook.liquid