Closure Wig Vs Frontal Wig: Which Is Better?How To Choose?
Women use wigs as a protective style for natural hair growth. You can use a closure or frontal wig to switch up your look while also keeping all of your natural hair tucked away from any heat or style manipulation. But how do you know if you'd do better with a closure wig vs a frontal wig? 
If you are new to wigs and don't know the difference between a closure wig and a frontal wig, before purchasing wigs, it is important to know the difference between the closure wig and frontal wig, and these frequently asked questions from customers. 
Such as closure wig vs frontal wig, which is better for you? Frontal vs closure wig, how to choose? Well, keep reading, you will find the answer to all your questions. 
What you will learn from this article:
1.What is a closure wig?
2.What is a frontal wig?
3.Closure wig vs frontal wig, what is the difference?
4.Frontal vs closure wig, which is better?
5.Closure vs frontal wig, how to choose?
What Is A Closure Wig?
First, let's talking about what is a closure wig. Lace closure wigs include 4*4 lace closure wigs, 6*6 closure wigs and 6*6 deep parting wigs in different colors, lengths and textures. 
Take the 6x6 lace closure wig as an example,6x6 Lace closure wig is a kind of closure wig, the area of the lace part of the wig is 5 inches wide and 5 inches long. It's big enough to do free parting. The lace part is in the middle of the head, and the left part is machine-made.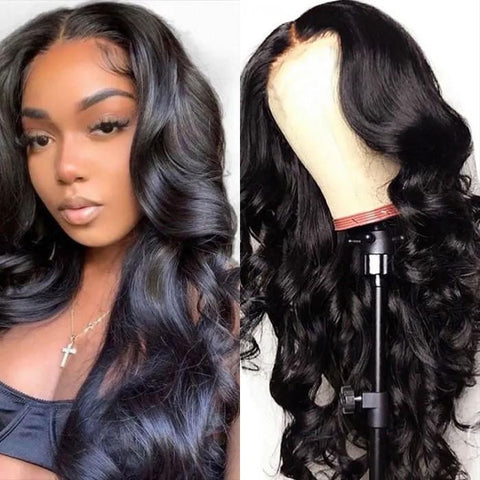 Feature Of Closure Wig



1.Cap construction
The handmade lace area of a lace closure wig is 4 by 4,5 by 5,6 by 6 inches, which is smaller than the front portion of a 13*6 lace front wig. But it is easier and more convenient for a wig beginner to install, as well as easier to take care of, it is a beginner-friendly wig type.
2.Parting space
A Lace closure wig doesn't limit the parting to the middle either, however, with a lace closure wig, you need to be careful about the style to avoid exposing the edges. 
3.Hairline
The lace part of the lace closure is 4 inches by 4 inches or 5inches by 5inches, the lace area covers your forehead, making it possible to have a natural and beautiful hairline.
Know what is the closure wig, let's say the frontal wig.
What Is A Frontal Wig?
Human hair lace front wigs are wigs with a piece of lace placed at the hairline position of the head. The size of the lace is 13x4 inch or 13x6 inch or other smaller size. The virgin human hair at this piece is sewn into the hole of the lace by hand. The other part of the wig is a thinner and firm material, the virgin human hair is sewn into this material. Lace front wigs just need you to bond the lace part to your head, easy for wearing.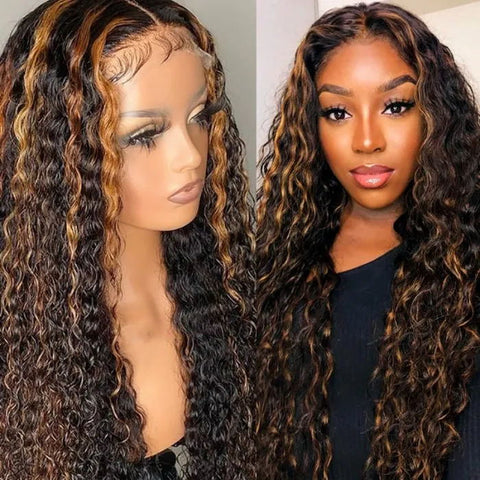 Feature Of Frontal Wig 
Comfortable
Lace front wigs are very comfortable and simple to wear. They are lightweight and will allow your scalp to breathe, which makes them much nicer to wear than other wig constructions – especially during warmer months.
Realistic
Lace front wigs are the most realistic wigs you can buy. The strands of hair are attached to the wig cap, which is made of highly durable lace. This lace will be dyed to match your skin color, which means it is almost impossible to see and makes it appear as if the hair is coming from your scalp and growing along a natural hairline.
Versatile
Lace front wigs are highly versatile. Because of the lace material – which makes it appear as if the wig hair is actually coming from your scalp – they can be parted in various places and therefore worn in multiple styles. Although there isn't the simulation of a hairline at the nape, they can still be worn in a very realistic half ponytail, low ponytail, or side ponytail. 
Now we have known the closure and front wig. So what is the difference between a frontal wig and a closure wig? Now, let's dive into the difference between these two.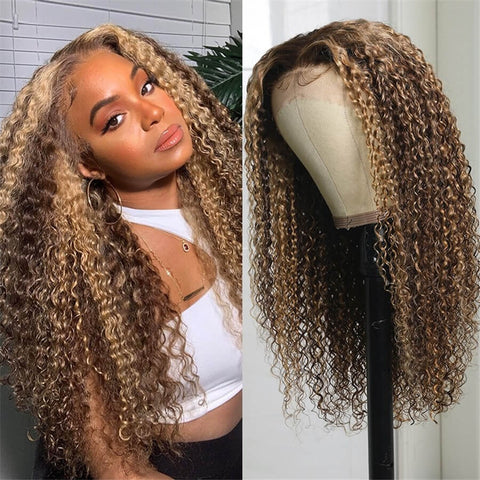 Size and shape:
This is the most obvious difference. between the closure wig and the frontal wig. Closure wigs' lace is usually 4x4 inches, Closures typically only cover a horseshoe size portion at the top or front of an install. Frontal wigs usually come in hairline measurements of 13x4.
·The lace of a frontal wig covers your head from ear to ear and has an elongated shape base (typically 13x4 inches).
·Versatility – lace closure wigs give you a limited style as you can only play with the position of the part. But for the frontal wigs, you can achieve a wide variety of styles while giving you a seamless, beautiful hairline. From Baby Spice side buns to Ariana Grande's signature sleek, pulled-back hair and even an ethereal goddess' half ponytail look is definitely easy to pull off.
· Cost – Frontal wigs are more expensive than closure wigs since they have bigger lace areas, so if you choose frontal wigs, you need to pay more money to get them than closure wigs. Because the frontal wig is larger and the most versatile, it is also the most expensive. Closure wigs are typically smaller and less versatile, they are also the least expensive. For beginners, a 4x4 lace closure wig is a less expensive option.
Closure Vs Frontal Wig, Which Is Better? 
The truth is that both options are great, both give the illusion that hair is growing from the scalp. You can choose them according to what you need. Both the above-mentioned types of wigs are convenient to use. They both can give you a natural look and the effect of hair growing out directly from the scalp. Closure wig nudges towards the natural, whereas the frontal wig moves towards the bold look. Both are equally good for protecting your natural hair, and based on the look you want to wear; you can prefer any one of these 
A lace frontal wig will always give you more options for styling. If you enjoy often changing up your look, a 13x4 lace frontal wig is your best option for overall style versatility. A 4x4 lace closure wig will save you on costs and help maintain the same style. If you don't care much to change your hairstyle, then a 4x4 closure wig is best for you. 
Frontal Vs Closure Wig, How To Choose? 
After explaining the above topics, some people may ask: How to choose frontal and closure wig?
If you want to try new hairstyles and add new hues to your strands, the frontal wig is your thing. The frontal wig is very popular despite it being a little on the expensive side. This is because you can customize your wig the way you want, and that is the most effective to obtain a flawlessly natural look.
Frontal wigs give you more opportunities to explore with style and if you're a person who loves to try new hairstyles and add new hues to your strands, the frontal wig is your thing.
If you have some worries about the price, but still want to have a high-quality wig, then we recommend you buy the closure wigs. With the closure wig, you'd have to place it one or two centimeters above your hairline to give it a natural look.
If you are scouting for a wig to impart you with a consistent look and possibly a strict, proper, and neat look that is consistent, we would say the closure wig is a way to go.
If you are a wig beginner, you can opt for a closure wig. It requires less maintenance, and installation is a lot easier. If you want styling versatility, a frontal wig is a way to go because you can make the most out of your wig hair by experimenting with different hairdos.
Well, if you're a complete newcomer to the wonderful world of wigs, Sofeelwigs recommends starting with a closure wig since a frontal wig can be a lot of work. When you first install a frontal wig, you've got to do some tweaking to get the natural look you're trying to achieve. You'll need to bleach the knots, tint the lace so it matches the exact shade of your scalp, and trim, tweeze, and pluck the hairline until it blends in seamlessly.
No matter what kind of wigs you want, Sofeelwigs will supply you with the best and cheap lace wigs. We are glad to be a reliable wig and human hair vendor, we are pleased to supply high-quality wigs of human hair including headband wig,u part wig, lace part wig, and other human hair wigs for black women to customers. 
Liquid error (snippets/article-template line 71): Could not find asset snippets/blog-detail-gallery_lookbook.liquid